Firm Profile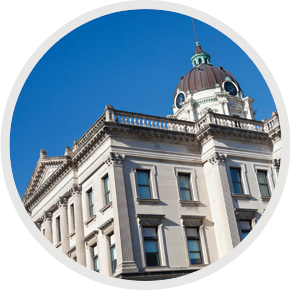 Established in 2009, Brucker Law, Gene Carson Brucker, PC is a law firm located in Bloomington Illinois handling divorce, family law and other civil related matters. Attorney Brucker offers a wide range of other services to better suit you and his clients. Gene and the staff of Brucker Law believe in taking an honest and direct approach to addressing clients and their needs. Brucker Law was one of the first in the area to implement a "paperless office" format to better serve clients and is still the only one doing it right. As always we appreciate your patronage and referrals.
Gene Carson Brucker - Attorney at Law
Tammy Ramsey - Paralegal
Dionna Christian - Legal Assistant
Practice Areas
Brucker Law offers a wide range of services for clients.
Family Law
The firm primarily handles family law related matters. Family law consists of dissolution of marriage actions, child custody (or now referred to as "allocation of parenting time and parenting responsibilities") actions, visitation (or "allocation of parenting time") actions, initial DCFS investigation and indication appeals, pre-nuptial agreements, defending and prosecuting orders of protections, adult and minor child adoptions, and other related domestic relations issues. We also handle some probate matters, including certain estate administrations, guardianships for minors and disabled adults, names changes, and basic estate planning and wills.
Civil Actions
The firm also handles other assorted civil related issues including but not limited to real estate closings.
Personal Injury
Brucker Law works with skilled personal injury attorneys. We will meet with you to evaluate your claim and referred you to such an attorney they believe is best suited for your needs.
Initial Consultations
Brucker Law will meet you with for an hour long initial consultation to discuss your issue. During that initial consultation, one of our attorneys will discuss your unique legal matter and work out a pricing arrangement that reflects the complexity of the work involved. Brucker Law's hourly rates are consistent with other attorneys in the area. In some matters, such as real estate closings or estate planning matters, we will quote a flat fee. Contact the Staff at Brucker Law to learn more.
Contact Us
BruckerLaw
405 W. Front Street, Suite A
Bloomington, IL 61701
info@bruckerlaw.com
(309) 829-9400
You can find us on Facebook
You can follow us on Twitter
You can also contact us directly by using the comment form below to submit your question to the office. Someone will contact you to schedule an appointment or respond to your inquiry at the earliest opportunity. Please review our Disclaimer as it relates your online communication with the firm. Communication through this website does not establish an attorney-client relationship.
Location
Brucker Law is located in the heart of downtown Bloomington, Illinois. Our office is directly North of the Grossinger Motors Coliseum, (formerly called the U.S. Cellular Coliseum), or two blocks west of the Law and Justice Center.
There is nearby on-street parking limited to 90 minutes. We also have a dedicated and marked client parking space on the east side of our building, between the two windows and labeled "Brucker Law Parking Only" Please be advised that sometimes there is a charge to park in this lot on Saturday mornings when events are occurring across the street.
Please feel free to call should you need further directions. We look forward to meeting with you.